When you adopt a cat, you aren't thinking about the day when your cat may become ill, or get injured, or need emergency care. But cats do get sick and sometimes do require expensive diagnostic tests and emergency care. You may be faced with veterinary expenses far beyond what you can afford, or need unexpected medical care that you didn't anticipate and don't know how you're going to pay for it. Of course, you want to make the best decision for your cat, regardless of the cost, but how to pay for it? Here's how to afford the cost of veterinary care.
I have been in this situation countless times with our many rescue cats. So often, I have needed to pony up and pay for complicated dental care, full-mouth extractions, multi-day emergency hospitalizations, or treating kidney failure to the tune of thousands of dollars—and I had no idea how we were going to pay for it.
I didn't have the money or savings—the only thing I knew to do was to put it on my credit card, and worry about it later. I have maxed out our credit cards multiple times paying for veterinary bills, literally not knowing how I was going to pay off the debt or how or when the money was ever going to come in. I have forfeited countless vacations over the years, and bathroom and kitchen remodels (still not remodeled!) so we could pay our vet bills and pay our credit cards off. But honestly nothing has been more worth the money, or been more rewarding, or made me feel better than having happy, healthy cats who are living good lives and who share their unconditional love with us. In time, over years, we have always managed to pay off those credit cards, certainly at a price (lots of interest!), but my peace of mind and satisfaction comes from knowing I did the right thing for my cats—even if it meant sacrificing some things I thought I wanted or needed for myself. In time, I have learned I can live without these things, and I've done fine.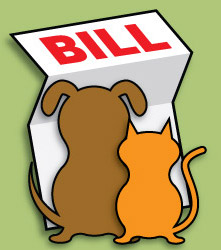 Today, if you're faced with an expensive surgery or an emergency you can't afford, there are some options.
Talk With Your Veterinarian
Work with your veterinarian to negotiate a payment plan to pay the costs over time. Some veterinarians will do this for good clients. Of course, this won't work if you're coming to the vet for the first time or in cases of an emergency.
Consider getting a second opinion from a different vet to see if the diagnosis is the same, and if a different vet will charge less for the same or a different procedure.
Apply for a CareCredit Loan
Many veterinarians accept the CareCredit credit card used specifically for health expenses, including veterinary care. You can use CareCredit for routine check-ups and also for emergencies. See more about applying for CareCredit.
Apply for Relief Grants and Financial Aid
There are several non-profit organizations that provide funding and resources to applicants who need financial help with veterinary care, including The Pet Fund and Red Rover. For the Pet Fund, all applicants are required to contact the Pet Fund by phone at 916-443-6007 before applying for funding. Emergency funding is not available. If your cat needs medical care that you cannot afford, see the listings of state-specific programs that may be able to help you on the Best Friend's website. If you need financial support related to Vaccine Associated Sarcoma (VAS) or Injection Site Sarcoma (ISS), the Feline Veterinary Emergency Assistance Program provides financial assistance for vaccine associated sarcoma for cats, only.
Get Discounted Services at Veterinary Schools
Many veterinary schools provide specialty services, emergency care, and low cost clinics through their veterinary residents and technicians. Here is a list of veterinary schools by state accredited by the AVMA and another list of veterinary schools by state.
Get Pet Health Insurance
Purchasing pet health insurance can give you peace of mind and relieve the worry of unexpected expensive veterinary bills. You can get pet health insurance and pay a monthly premium that can cover the costs of accidents and injuries, illnesses, exams, diagnostic tests, cancer treatments, chronic and genetic conditions, surgery, non-routine dental, ultrasounds, prescription medicines and much more. A good, reputable plan may be the way to go, especially if you have an older cat or one prone to illness. But even if you don't, this may give you the peace of mind you need. For one, PetPlan is recommended by the Humane Society of the United States.
Raise Money Through Crowd-Funding
A great way to raise money for pet emergencies or high veterinary costs is through crowd-funding websites that use a donation-based model of funding. With these websites, you create a campaign page and funders donate to help you reach your goal. The best crowd-funding websites for causes and charity are Crowdrise, Indigogo, and Causes. Here is a list of the 15 best crowdfunding websites for personal fundraising.  Here are three crowdfunding websites where you can start today to get help with your vet bills and animal costs —  GoFundMe, GoGetFunding and PlumFund. For more help, download Indiegogo's Crowdfunding Field Guide and Kickstarter's Basic Video Series on how to start a crowdfunding campaign.
Fundraising Through Social Media Websites
There are even more options now using social network websites that offer personal fundraising for medical expenses, medical emergencies, and particular causes. These include Pet Chance, Pet FundRazr, YouCaring, GoGetFunding, PlumFund, YouCaring, GoFundMe and GiveForward.
There's More Assistance
You can get assistance with basic cat care and emergency cat care through Red Rover here.
National & State Resources
Here's a List of national and state resources for cat owners in need (this list includes dogs too).
Some Statistics to Ponder
1 in 3 pets will need unexpected veterinary care this year
Every 6 seconds a pet guardian is faced with a vet bill over $1000
In 2014, $15.2 billion will be spent on vet costs in the U.S.
Good luck, and remember money is only a tool—it's what you choose to do with your money that makes all the difference.
Want to look into getting pet health insurance, here's a list of companies that offer pet health insurance.
Are you looking for a new veterinarian, or don't already have one? Here are some helpful tips on how to find a great vet.
SaveSave
SaveSave