Here are some great cat products that I love and want to highlight because they are safe, well designed, use non-harmful or non-toxic materials, and cats will love them!
Cat Trapeze
I love this product! It's called the Cat's Trapeze, and when it's in motion – you can really see how it got its name!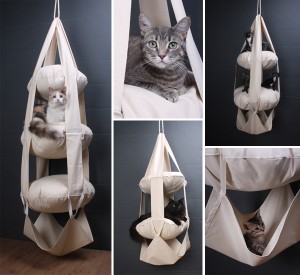 Cats love to climb and they love to be elevated–the higher the better! This product offers so many benefits for cats–it's comfortable, cozy, they can hide, they can climb, it builds strength, it's great for fitness, it's good for multiple cats, it's attractive and it's easy to wash!
Here's the Cat's Trapeze in action!   Video of the Cat's Trapeze
Here's a link to the website: http://www.catstrapeze.us/
Here's more about the product: http://www.catstrapeze.us/pages/about-the-cats-trapeze
Catpods
Cats love tunnels and places to hide and hang. I liked this product because it's a cat scratcher and cat house all in one. It's made from industrial strength corrugated cardboard, and is easy to clean with a vacuum.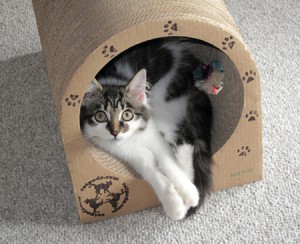 Website for Catpods
Kuranda Cat Beds 
A woman in my cat rescue group has this, for her multiple cat household, and she always has several cats on it at one time.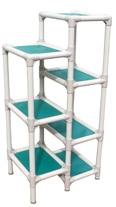 Cats love looking out the window and being high up. This is a great way for your cats to get exercise and play. The different levels provide individual spaces and privacy. The tower is designed with more weight at the bottom to keep it secure from tipping. The Furniture Grade PVC frame and solid vinyl fabric is durable and easy to wipe clean.
Website: http://kuranda.com/cat-beds
SmartCat Ultimate Scratching Post
I have three of these in my home, they have lasted for years – I love the height and cats can really stretch their bodies full length which they love and need to do. The post is 32″ high and very stable–and all sisal which I love.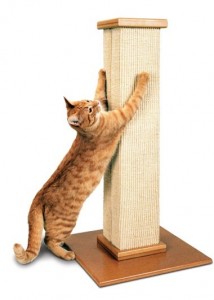 Some petfood stores sell it like Petfood Express and also it's on Amazon for a very competitive price.
Cat Charmer Toy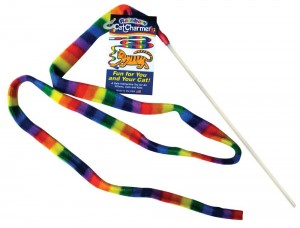 When I'm managing our cat adoption site on weekends and have an adoption of a kitten or adult cat, I always recommend people buy this toy. It's made in the U.S., is safe, non-toxic, can't be easily ingested, is interactive, and provides hours of great play and joy for your cat.
These are available at some larger pet stores or here on Amazon.
Turbo Cat Scratcher with Ball 
I have several of these Turbo Cat Scratchers and even my blind kitty LOVES it! They can really entertain themselves with this toy and use it for stretching and scratching. The scratch pad is replaceable and you can add catnip on the scratch pad for added fun!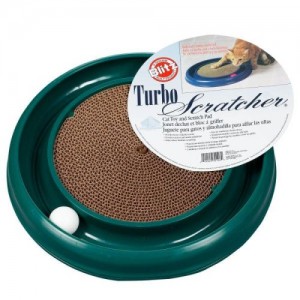 These are available at pet stores and on the Animal Rescue Site.
Collapsable Tunnel for Cats
This comes in a variety of look-alikes, but I particularly love the one by ABO Gear, and have three at home. My cats LOVE these, they hide in them, play hide and seek, chase each other through them, sleep in them – it's a favorite for sure!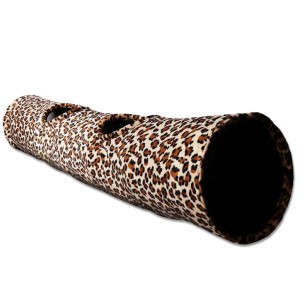 I found mine at Petfood Express but you can get them from ABO Gear on Amazon
 Ethical Products Cat Spring Toy
At our adoption site, I always recommend new cat adopters get these, they are safe, durable, can't be ingested or swallowed, and provide hours of good play.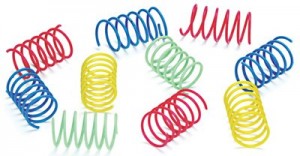 Found in pet stores and on Amazon. 
Chiquita Catnip Banana
The Chicata Catnip Banana measures 7″ length and is made from yellow cotton and is filled with catnip. It's durable, lasts for a long time, and my cats have really loved it.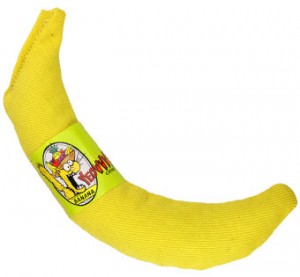 If you buy it at The Animal Rescue Site, it funds food for shelter animals in need and supports some great animal charities.
 Ceramic or Stainless Steel Water Fountains
Water fountains encourage cats to drink more, and since older cats can be more prone to kidney problems, adding one or two water fountains can be a good preventative measure and keep your cat's kidneys healthy. In particular, I like Pioneer's ceramic fountains, but they also make stainless steel fountains and unlike plastic, there's no off-gassing, it doesn't degrade, it's easier to clean, and glass, ceramic, and stainless steel are always safer for your pets to drink from.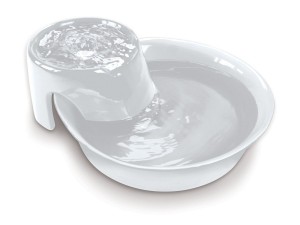 Lots of Pioneer brand water fountains are here at eBay. Big Max and Drinkwell also make good ceramic and stainless steel fountains found at Wag, PETCO, Petfood Express, and other large pet stores.
Multi-Level Climbing Platform 
This attaches to a standard door and is a great space-saver! It can be moved to other doors, is spring-loaded to secure it, and has a vertical sisal post for scratching. Apparently easy to assemble, made of durable wood, and gives cats the vertical elevation they love!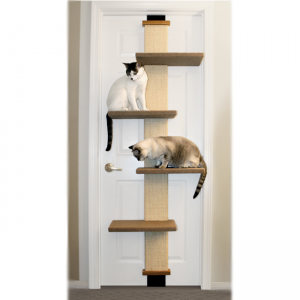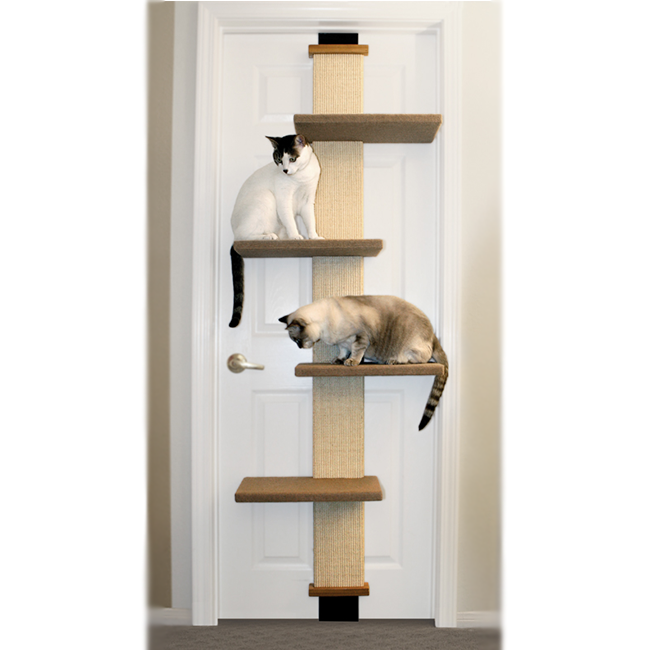 Visit Pioneer Pet at pioneerpet.com.
Rosie's Kick Pillow

Cat's love to kick with their back legs, and this pillow gives them a great opportunity to express their natural tendencies, plus it's handcrafted and full of catnip!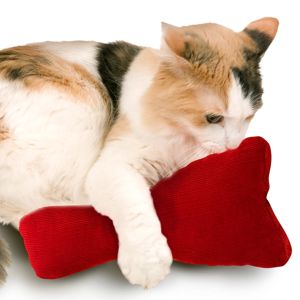 Find it and other great products at Pioneer Pet at pioneerpet.com.
Isaac Mizrahi Leopard Collection Nesting Bed

Cats love to cozy and curl up in a soft, warm, inviting cat bed with sides around them for support. This bed is made of polyester and the handsome leopard print design is a knock-out for interior decorating!
There are many beds like this one at Wag.com 
Kitty Sleephouse
This dual-purpose cat bed and hideout and cat pillow for lounging is not only is effective but it looks great too!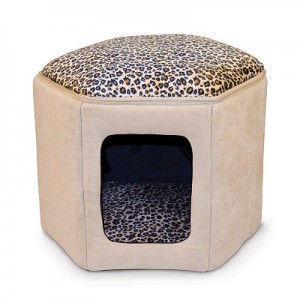 I found this product on Frontgate.
Catty Stacks Modular Cat Condos
This awesome modular cat condo is made from industrial-strength Corrugated Ultraboard(TM) and the boxes securely attach to each other. You buy them individually and they're available in several colors and even prices! This offers cats height, climbing, privacy, a place to hide, to be alone, and to play–it's the cat's meow! Made by Catty Stacks, I found it on 
Amazon
.
Vesper Cat Furniture
My cats LOVE to perch, and hide in protected spaces like this one.  This cat is simple, but attractive, well constructed, is a great place for your cat to sleep or play, and has a long sisal scratching post for them to stretch. The dimensions are: Base: 21.9 x 22.1 inches; Height 32.1 inches. It's available on Amazon and PETCO and in Pet Food Express on the West Coast.

Cat Side Duvet Cover & Pillow Case
This duvet cover is perfect for cat lovers, and is fun, affordable and your cat gets more room than you do! It's featured on The Animal Rescue Site, where every purchase funds food and care for rescued animals.
100% polyester
Includes one duvet & two pillow cases
Full duvet: 71″ x 86.5″ (180 x 220 cm)
Queen duvet: 79″ x 86.5″ (200 x 220 cm)
King duvet: 94.5″ x 86.5″ (240 x 220 cm)
Pillow case: 20″ x 30″ (50.8 x 76.2 cm)
Machine wash warm, do not bleach, tumble dry low, do not iron or dry clean
Imported