As a cat foster, and routinely taking cats to adoptions, finding a home for an adult cat can sometimes be a challenge, especially for the older ones, but finding a home for a handicapped cat can present an even greater challenge. After two years, this handicapped rescue cat found a great home!
Many people looking to adopt a cat are partial to young and healthy cats without any handicaps, deformities, or chronic illnesses of any kind. At adoptions, I've even had people ask me how my foster cat's teeth are and when was the their last dental cleaning? One potential adopter who fell in love with one of my foster cats, who was very healthy, turned her down after I told her that I took her for a final routine checkup (she was adopting her from my home that day) and she had her anal sacks expressed because they were full. The adopter somehow misinterpreted this to mean that the cat was unhealthy! So I explained to her that this was pretty normal, and that she would likely have to have them done once a year, but that it could be during her routine exam, and it was a cheap procedure, and part of preventative health care. But that was enough to scare her away, and instantly fall out of love with this cat, and turn around and get two kittens instead!
Often, people choose young cats or kittens thinking they will be healthier and have fewer health problems in the coming years, but that is not necessarily the case at all. You just never know.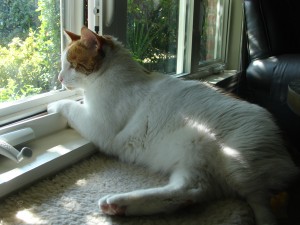 With my rescue cat Piev, I had vacillated between getting him adopted or keeping him forever, because I was having such difficulty finding the proper home for him. Piev was a very active cat and needed room to run (even with his crippled hind leg), windows to watch life outside, and lots of communication and attention. He was in a way, a high maintenance cat, but in a good way. At adoption day, everyone fell in love with him—he's big, well really big, incredibly sweet, very curious, incredibly trusting, very alert and smart, talks to you, and loves people. There must have been hundreds of people that fell in love with him on the spot, they were just taken with him, but completely overlooked adopting him because of his handicap and past experience with skin cancer.
Fast-forward two years. At our rescue group, Community Concern for Cats, we have had great success with producing videos of our adult cats—telling their particular rescue story through photos and writing, along with some film clips showing their personality in action. Then posting the films to YouTube, our CC4C website, Petfinder, and Craigslist for our local area. Well, out of the blue one day, a woman emailed me. She had seen his video on Craigslist and was very moved. This particular woman was looking for a fourth cat—a difficult to adopt rescue cat with a handicap! Her other three cats were all rescues. This woman was sent by God I swear! She must have been a cat in another lifetime, because she knew what cats like and how to care for them.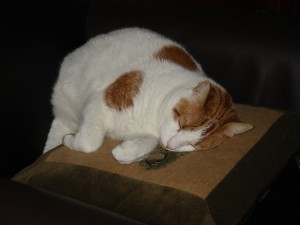 Her second email was music to my ears ….. she explained that she doesn't use chemicals in her house, lives a quiet life, has a one-story home, feeds two-times a day—Wellness, Lotus, and Natural Balance wet food and Evo dry food (all healthy, premium cat foods with no bi-products, meal, etc.), she cooks for them once a week, and has catnip parties for them every weekend! Ok, now I was in a near blissful, ecstatic state reading this, practically falling off my chair, and wondering can this person be for real? She must have been divinely sent.
She had gone on to tell me that in the winter she provides all the cats with soft cat beds, and puts heating pads under their cushions … and she lets the cats sleep on the bed with her every night. Ok, now I was nearing a Nirvana-like state of euphoria! This was just too much, too much good fortune! How good can it get? I will pay her! Kidding.
She told me she was looking for an affectionate, personable, intelligent cat that wanted to be loved and spoiled. BINGO! She found him! Piev had these in spades. Truly a match made in heaven. She felt so much compassion for how Piev lived in pain with broken bones all his young life, and no one fixed them. They weren't properly treated, someone neglected him. Her heart broke for him knowing how much pain he had experienced, and she also had experienced a badly shattered arm and deep pain. She recognized his handicaps in herself, with some vision problems she had, and felt deep compassion for him. She described her cats in such great detail that I could tell she was highly attentive to them and very observant, and would "see" any concerns, and really cared for them on a very deep level.
So we scheduled a "date" for her to meet Piev. She came on a Friday late afternoon, and stayed for a couple of hours alone with him and her friend, and said that she felt a very strong connection with him. Since she had three adult cats at home, I offered her a trial period of a month, a Foster-to-Adopt arrangement to see if it worked out for her and all the cats. No expectations—no pressure—just see how it went and how everyone got along. A couple of days later she wrote after her visit, that she wanted "to offer Piev his forever home" and wanted to adopt him.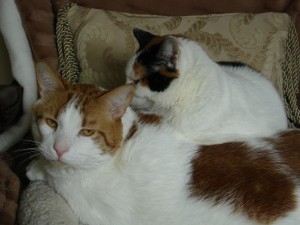 Later that week, we dropped him off, bringing some toys, his particular cat bed, and we continued to keep in touch over the next month, writing often. She sent photos, updates, had a few questions, and at the end of the month, followed through with adopting him. Piev had his quirks, which she came to know, he had peed on a few things being scared in the beginning, he had not made friends with her cats, but she still wanted him. She had told Piev one night while brushing him, that "he was a cat with his own home"—and she meant it. I cried when I read this. In fact, I cried every time I thought about Piev for several months. No cat had touched me in the way he had, that I had adopted out. All I wanted for him was his own home, and unlimited love.
The Foster-to-Adopt went though a month later and Piev found his new permanent home, his forever home—his final home. I could let go now, because I knew that he had found the best home in the world.