Recently my cat Simba suffered from severe gallstones, gallbladder and bile duct inflammation with many calculi in his gallbladder and one large gallstone obstructing his bile duct. There was no warning for us until it was too late and his case was too severe for medical treatment. So after much research, I want to share what I've learned through my vet, the ultrasound radiologist, and the best medical sources of information on the Internet about gallstones, gallbladder and bile duct inflammation in cats.
My cat Simba had apparently been making gallstones for some time without showing any apparent symptoms until they posed a medical problem and he stopped eating and was in severe pain. When the symptoms appeared, Simba had stopped eating and Mirtazipine (an appetite stimulant) was not jump-starting his appetite, he isolated himself and didn't want any interaction, he was lethargic, vomiting, and I knew he was suffering and in pain. Our vet confirmed he had a fever and his abdomen was sensitive to the touch.  He proceeded to give Simba a senior blood panel and X-rays and while we waited for the blood test results, our vet kept Simba for gavage feeding (since he would no longer eat on his own) and gave him intraveneous fluids and pain therapy for 1-2 days.
Since we rescued Simba in 2004, he had had chronic inflammatory bowel disease (IBD) for many years, which we treated both holistically with acupuncture and bicom bioresonance therapy, and traditionally with Tylan powder or metronidazole as needed, probiotics, Metamucil, a special diet, B12 injections monthly (he had a B12 deficiency), and weekly subcutaneous fluids. In addition to his chronic IBD (he was an x-feral cat for two years), he also had chronic liver disease and elevated liver values flaring up infrequently and an older mild case of pancreatitis. He was diagnosed with these in 2005, and treated with antibiotics and Denosyl (liver) supplements. We had continued to treat his IBD with probiotics, B12 injections, metronidazole and acupuncture, but nothing completely eliminated Simba's symptoms of IBD, however together these worked to significantly improve his condition.
Simba's Diagnosis of Gallstone Obstruction
In July 2014, we put Simba to sleep after a complete diagnosis of his condition that included X-rays, a senior blood panel and ultrasound imaging that showed he was suffering from a 5 mm calculus or gallstone obstructing his bile duct with many smaller calculi in his gallbladder. His bile duct was dilated and thickened and he had an enlarged and thickened gallbladder, with an enlarged right kidney and bladder likely the result of the complications noted above. With so many calculi in his gallbladder and a large stone blocking his bile duct at 12 years of age, surgery was the only solution and it would not solve all of these problems. It was also thought that surgery would not necessarily extend his life or quality of life, was considered too risky for a 12 year old cat, and would cause him even more suffering.
Diagnostic Tests for Gallbladder Disease
To diagnose Simba, he was first given a blood test and X-rays, which did show inflammation of the gallbladder and suspected gallstones, however, the ultrasound report was what really highlighted the specific problems and gave us the very detailed findings for my veterinarian to then make a sound and appropriate recommendation based on the data—like his 5 mm stone blocking his bile duct. With the ultrasound, we could make the right decision for Simba based on a much more detailed radiology report.
Treatments for Gallstones in Cats
In Simba's case, my vet recommended against treatment as it would require extensive surgery that would not prevent new stones from developing and obstructing his intestines. However, depending on your cat's condition and diagnosis, treatment can be recommended using medications, antibiotics, surgery, hospitalization and ongoing care.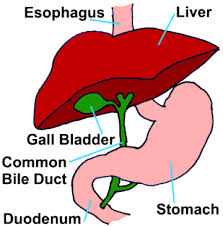 Available treatments involve either dissolving the gallstones with medications or removing them surgically. PetMD also says recommendations might include, "Vitamin K1 to be given intravenously if the patient is jaundiced; vitamin E will be prescribed if high liver enzymes or inflammation in the liver and bile duct are diagnosed; and S-Adenosylmethionine (SAMe) may be prescribed to improve liver function and bile production. Antibiotics may also be warranted for treating associated infections, bacterial complications, or for the prevention of an infection when outside intervention is necessary (e.g., IV, surgery, or any treatment that necessitates going into the body)." Then if your cat does have surgery to remove the gallstones, ongoing care would necessitate periodic ultrasounds to see how the liver and bile system are functioning, whether there's any new infection, and whether there is inflammation or swelling indicated by fever, pain or weakness. And routine vet exams would be necessary every 2-4 weeks to monitor your cat's health. Then a high protein diet may be prescribed for the long run.
Causes of Gallbladder Inflammation in Cats
With the suddeness of Simba's acute condition, I needed to understand what caused all these problems for him? Was it something we could have done differently? Was it his food? Was it genetic? What was it? Why didn't we see this coming? I observe all of my cats so carefully daily and I didn't see this until it was too late.
Reading several different medical sources, there are several causes of inflammation of the bile duct and gallbladder in cats that can include malfunctioning muscles in the gallbladder; a restricted blood supply to the gallbladder wall; trauma to the abdomen; previous abdominal surgery that can lead to sensitivity; bacterial infections in the intestine or blood that get into the gallbladder; parasites in the gallbladder; or abnormal gallbladder development (PetMD.com).
Causes of Gallstones in Cats
Gallstones in cats can be caused by several different reasons, including: an imbalance in the substances that make up bile including too much cholesterol; too much calcium, or bilirubin in the bile or not enough bile salts; bile that may be supersaturated with pigment, calcium, or cholesterol; failure of the bile to flow normally caused by inflammation; failure of the gallbladder to function properly; sludging bile that's not moving properly; cysts in the ducts; a bacterial infection or tumor –- or the presence of stones that trigger inflammation and cause invasive bacteria to develop. Usually several different factors converge to create gallstones developing including genetics, body weight, decreased movement of the gallbladder and diet.
In Simba's case, we'll never really know what caused his gallstones, but likely it's a combination of factors including his weight, that had been developing for some time. The good news, not for Simba but for cats in general, is that gallstones and gallbladder disease is apparently not that common in cats and in most cases is treatable.
References
1. PetMD – Gallbladder and Bile Duct Inflammation in Cats
2. PetMD – Gallstones in Cats
3. The Merck Manual for Pet Health – Disorders of the Liver and Gallbladder in Cats
4. WebMD – Causes of Gallstones in Humans
5. WebMD – Understanding Gallstones, Diagnosis and Treatment